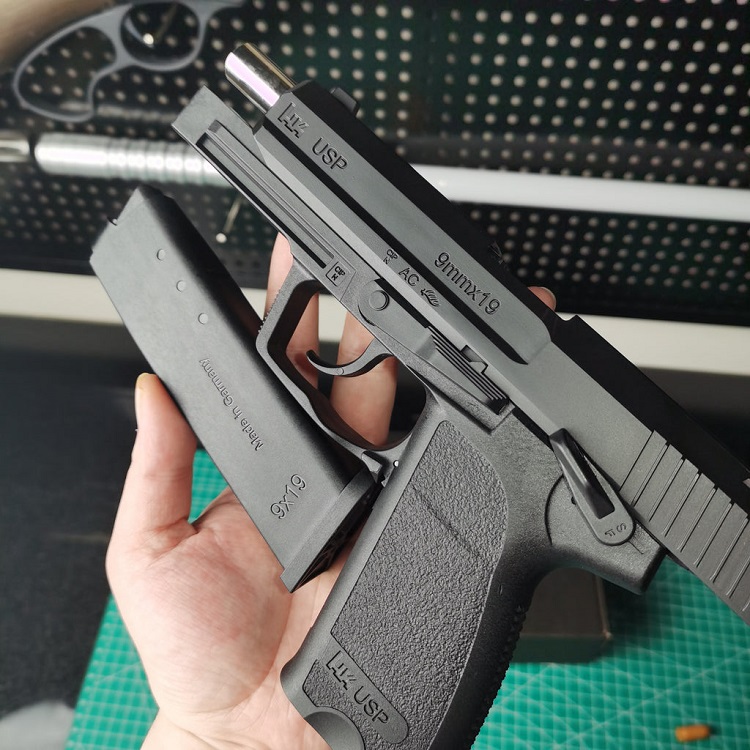 USP Laser Blowback Pistol Toy Handgun
Description
Shipping Info
Free Shipping to the United States
Pistol toys cannot be shipped to Singapore.
Functions:
1. This is a laser blowback pistol, which means the slide moves back when you press the trigger. At the same time, fire the laser and eject the shells.
2. The laser target can sense the pistol's laser beam and give shooting feedback, which can add more interest.
3. After shooting the last bullet, last round bolt holds open. Of course, you can also remove the magazine for continuous shooting.
4. The blowback structure will create a slight recoil when shooting, causing the laser to deflect. Takes more practice.
5. Do not shoot at the head.
Included:
USP laser pistol, Magazine, Plastic shells x 9, Metal shells x1.
Notes:
In the Slide Locking state, rotating the barrel can adjust the alignment of the laser.
The pistol can achieve infinite shooting, when you remove the magazine, the slide will not lock, which is also a good way to play.
This gun can be played without a laser target.
There are 2 types of Laser Targets to choose from. when target A is hit, it will make a sound and change color, and when target B is hit, it will fall back and return to its place.
Attributes:
Gun Length: 8.7 inches, Gun Weight: 0.92 lbs
Laser Target A Dimensions: 4.7 x 2.8 x 1.2 inches
Laser Target B Dimensions: 6.3 x 5.5 x 4.3 inches